The Best Picture Books that I Currently Use
Best Picture Books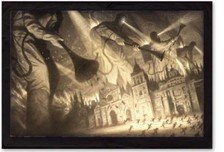 A scene from Shaun Tan's, The Arrival. The Arrival is a picture book composed entirely of images. No text, but when you create illustrations as striking as this, words tend to be superfluous.
---



The criterion I use when selecting picture books is based on several principles...


The first is the story must entertain, or at least engage me.


The second is it must follow the rules of story grammar; that is, it must have a clear beginning, middle and end - and other vital story grammar elements.


The third is the language (either written or in the illustrations) must be rich and full of meaning, either literal or implied.


The books that I use in therapy are diverse in their tone. Each text is analyzed using the Fry Readability Graph to determine reading level.


Follow the links below to read in depth summaries of the featured texts, and instructions on how to use text-based intervention on the best children's books available.


Text analysis is a fluid, ongoing process. New book analysis reviews will be added as they become available.



---
1st Grade Level (Years 1 & 2) Authors and Text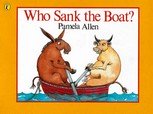 Scene from Pamela Allen's, 'Who Sank the Boat?'
Pamela Allen reviews

Scene from Ian Falconer's, Olivia
Ian Falconer reviews

Scene from Alison Lester's, Magic Beach
Alison Lester reviews
---
6th Grade Level (Years 6 & 7) Authors and Text
A scene from Shaun Tan's The Red Tree
Shaun Tan reviews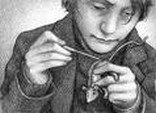 A scene from Brian Selznick's, The Invention of Hugo Cabret
Brian Selznick reviews
A scene from Colin Thompson's The Big Little Book of Happy Sadness
Colin Thompson reviews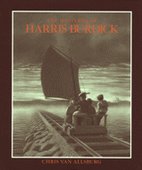 A scene from Chris Van Allsburg's, The Mysteries of Harris Burdick
Chris Van Allsburg review
---
Return from Best Picture Books to Speechlanguage-Resources Homepage