Language and Reading Comprehension Success ebook
Everything You Need to Improve your Students' Reading Comprehension Skills




Many school-age students have trouble with reading comprehension. It is a global problem and partly has its roots in children having low average, or poor literacy skills.


Reading comprehension failure is complex, and is a tough thing to solve. The good news is that our understanding of comprehension failure is improving. We know that a struggle to understand text is related to problems in key areas such as, inference, auditory memory and language skills.


The best way for your students to improve comprehension is by explicit and detailed teaching of these skills.


Which was the conviction and viewpoint that guided me in the creation of this ebook...


Language and Reading Comprehension Success is a detailed and easy to use ebook that will improve your students' oral and reading comprehension and inference skills.


By sharpening their comprehension skills, your students will become better readers. With improved reading comprehension skills, your students will be better equipped to understand an author's message.


Understanding the subtle hidden information in text is a vital skill as students progress from elementary/primary school into secondary college.


For your students to learn independently, they need to comprehend and infer an author or speaker's often hidden meaning.


For many students comprehension of written text is a confusing puzzle.




Obstacles to Successful Reading Comprehension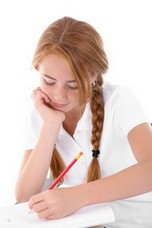 Emily, a 10 year old girl, reads words on the page quite well but cannot comprehend the meaning of what she reads.


Emily has problems understanding written language. The same is true with spoken language.


Emily hears the words ok, but has problems understanding and making sense of the words. Clearly, this limits her ability to respond well when in conversation with peers or her teacher.


But it's Emily's difficulty with reading comprehension that is of most concern to her.


For Emily, the task of responding to direct questions about the book is a huge burden for her. When questioned about the text by her teacher, Emily will often sit in embarrassed silence as her face turns red. She has no recollection of the events in the book, nor has any insight into character motivation.


Emily's silence causes her teacher to become frustrated and confused, and questioning why Emily can't recall events in a passage she has just read.




What's Causing Emily's Problem with Comprehension?




Emily has reading comprehension failure. She can't comprehend the meaning of the text, even though she can read the words on the page. She fails to comprehend the meaning because her vocabulary knowledge is poor, and her working memory ability is weak.


Emily also has problems learning new and difficult words. She has difficulty because she doesn't know how to attend to and focus on unfamiliar words so as to learn their meaning. When she is confronted with an unfamiliar word Emily skims across the word quickly and doesn't devote mental energy to learning it.


And, because Emily has difficulty learning new words her vocabulary remains poor, and her ability to infer, text is compromised.


Reading failure is often the result.


For Emily, and students like Emily, reading comprehension needs to be explicitly taught.




And that's what this ebook is about...




Comprehension of written text is a life skill that will serve your students their entire academic and personal lives.




Will the ebook Help my Students?




When you effectively deliver the program you can expect your students' comprehension and inference skills to improve.


Your students' language and inference skills will improve because the ebook specifically targets skills such as vocabulary knowledge, inference, auditory memory, and critical thinking. These language and higher order thinking skills are essential for successful reading comprehension.




What's in the ebook?





The ebook is divided into 9 chapters.


Each chapter features oral and written language questions, which are related to the story, Guff's Journey Home.'


The context of a familiar story - in this case 'Guff's Journey Home' provides a solid foundation for your students as they are gradually introduced to increasingly challenging language concepts.


The ebook was crafted in the knowledge of the powerful role oral and written language skills play in developing students' comprehension and inferencing abilities.


Upon completion of the ebook, your students will have been gently prodded with hundreds of questions designed to make them think critically about written text. Best of all, your students will have learnt to reflect on story and written language in completely new ways.


In brief, the Language and Reading Comprehension Success ebook is a unique and powerful tool to teach your students vital comprehension and inference skills.




Free Bonus: Story Odyssey Narrative Game







Story Odyssey is a narrative-based game that works by involving your students in an exciting game called Guff's Journey Home, while introducing story grammar rules.


Story grammar can be a difficult concept for students to learn.


But here's the thing, we learn difficult concepts best when they are introduced within the context of a game.


That's why the Prehistoric Trek game is successful in teaching story grammar skills. It is immersive. Your students will respond to events and challenges, that they must overcome to help their character reach the safety of a village.


And while playing the game, your students will learn critically important narrative and story telling skills such as story retell, initiating event, setting, character motivation, and how to successfully conclude a story, both oral and written.




Features a Hand Drawn Gameboard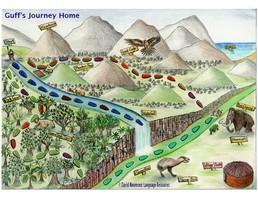 The gameboard, which can be printed out on A3 or A4 paper, is a hand drawn picture that has several divergent paths for each character to select.


What's more, a feature that children like about the game is that you never really play the same game twice.


Which means there are boundless scenarios to retell and to write about!



Alternate Scenarios

There are several alternate scenarios built into the gameboard itself. And, combine that with the range of rules variations embedded in the rulebook, the different experiences a character may have is virtually limitless.


The 43 page rulebook is packed with detailed descriptions of characters and setting, ideas for games and much more...



---
Both the Language and Reading Comprehension Success and Story Grammar Programs are suitable for students aged between 9-12 years of age.
---
Available as an Adobe PDF download direct to your Computer, or as a Data CD-ROM
The adobe PDF file enables you to download the ebook file directly to your computer's hard drive, where you have the option of printing the entire book, or individual chapters almost immediately.
Also available as a Data CD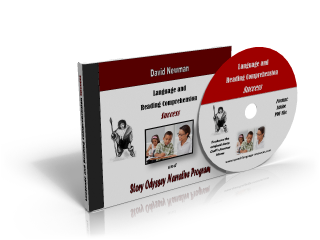 There's also the Data CD option.


Once you've purchased the product, your order will be submitted to the CD Fulfillment Company. They will complete your order, email you their shipping details, and mail out the Data CD to your nominated postal address. You can expect to receive the Data CD within 3-5 working days, if you live in the U.S., or within 14 days if you live outside the U.S.


The service is efficient and quick. An added bonus is that the ebook adobe files are processed on TAIYO YUDEN CD's, the world's best Data CD's, so you can be assured of high quality.



---
Own this eBook and Bonuses
You have Two Options...

Purchase the Direct Download and have immediate access to the ebook and bonuses.


Here's what you get...
The Language and Reading Comprehension Success ebook
The Story Odyssey, Narrative Program
The Hand Drawn Gameboard - Prehistoric Trek
For $15.00
Order the Direct Download
or...

Purchase the Data CD.


Here's what you receive...
The Language and Reading Comprehension Success ebook
The Story Odyssey, Narrative Program
The Hand Drawn Gameboard - Prehistoric Trek
Order Data CD
Both the Direct Download and the Data CD options feature a 60 day money back guarantee if you're not completely delighted with either product.
---
Features a Secure Online Order Form

You're fully protected and have peace of mind with any transactions. All transactions from this website are processed by E-JUNKIE. Both E-JUNKIE and PayPal are protected by the very best ssl certificate technology. This means your credit card or debit card details are 100% safe.


When you click through to the order page, look for the green in the address bar at the top of the page, and the little padlock. The green in the address bar is like the online symbol for Fort Knox - nothing is allowed in or out.



What happens after I click on the Buy Now button?


Well, the process is pretty much hassle free.

After you click on the buy now button you will be directed to a secure order form where you will be presented with the option of paying with either paypal or credit/debit card.


Once the transaction is complete look for a small, orange oblong box that says 'Complete your purchase.' Click on that box and it will take you to the download page.


E-JUNKIE will also send you a confirmation email with download information, so you're covered both ways.


It's unlikely you'll have any problems, but if you do please don't hesitate to contact me and I'll give you a hand.




Return to Top of Page






Return from language intervention ebook to Speech Language Products