Working Memory Challenges
Coming Soon - To be Released in January, 2017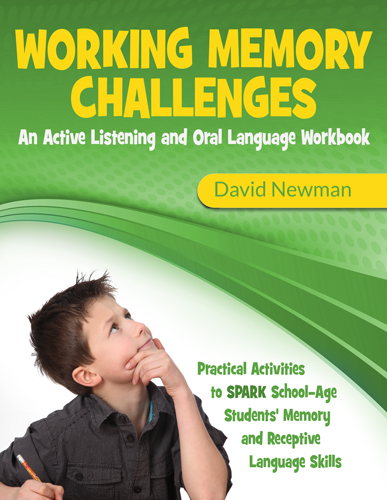 Working memory challenges is a new workbook of working memory activities written by an experienced, practising speech-language clinician, who just happens to work in elementary, middle, and secondary schools. Use these same activities to prompt memory skills in your school-age students in elementary, middle school and secondary college. 
Let your students learn from a school based clinician who has spent 15 years actually doing this work. The exercises within these pages are creative, school relevant and accessible to clinicians, teachers and parents and is presented in easy to follow, non-technical language.
If you have students in your care with a history of oral and written language comprehension difficulty, or who have trouble learning new vocabulary and unfamiliar concepts, then they may have problems with working memory.
Working memory has a crucial role to play in school-age students' ability to learn and retain new information.
Targeting working memory skills can have a real and lasting effect on children's memory and receptive language skills and their ability to remember and grasp important information.
This workbook features...
Highly engaging printable and photocopiable activity sheets and specific items for each activity.

Dozens of high interest questions to prompt students' memory and receptive language skills.

Entry, intermediate and advanced level questions that gradually become more difficult and challenging.

An informal pre-post test to establish a baseline and rating forms to chart your students' progress. 
Updated 10/2016