Active Listening Activities
Active Listening Activities: The purpose of the  activities is for students to identify and point to correct shapes in the correct sequence as presented via oral instructions. After each instruction, students should be given adequate time to correctly process the information and identify the correct answer. If students consistently have difficulty identifying the correct sequence, repeat instructions in a slow, clear voice and point to the correct answer if necessary.
The advanced section has some very tricky and complex tasks so it is ok to repeat the instructions as often as is needed and even break the question into separate parts. Provide as much scaffolding as is needed to ensure that students are able to cope with the complexity of some of the questions.
It's important to state that the active listening programs are teaching activities, not assessments so it's fine to break the instructions into bite size portions if needed. Students who have difficulty with concepts such as before, after, next to, beneath, etc may find some of the activities too difficult.
Sequence: 
Print and laminate the table of coloured shapes in the appendix.
Each student listens to the instructions and points to the correct sequence.
Once a student has completed a task, mark their response on the score sheet which is provided on each program.
The activities have been designed to be used with your students who may have difficulty with 2-3 stage instructions or had difficulty with sub-tests from the CELF-4 such as Concepts and Following Directions.
Both programs are free to download and begin using with your students almost immediately. The only preparation needed is to print and laminate the shapes board. The programs also make useful homework to send home to parents as they are easy to use and children find them engaging and challenging.  

---
Active Listening Activities - Entry Level Program


Click on the image to download the entry level program. The entry level program features simple one, two and three stage instructions and can be used with students as young as six. The shapes used are common shapes such as circle, triangle, square and star. 
Active Listening Activities - Advanced Level Program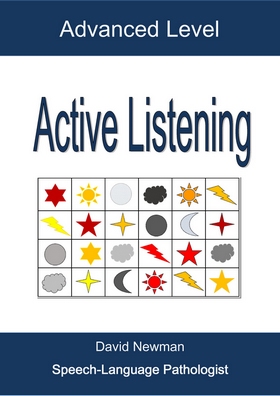 Click on the image to download the advanced level program.  The advanced level program features complex instructions that are designed to stretch students' ability to listen to complex sequences. The shapes used are designed to represent celestial objects and common weather phenomena and so are a little trickier to initially identify. For instance, students will be asked to point to a four-sided star, not the five-sided star, etc.
Return from Active Listening Activities to Home Page
Updated 02/2016