Contact Us
If you have a query about the speechlanguage-resources website or would like to make a comment about the site, please contact the administrators at speechlanguageresourcesdjn@gmail.com
---
Also, please sign up for the Language Dispatch newsletter. The newsletter provides essential monthly language intervention tips, techniques and information.


The information provided in the monthly newsletters is ideally suited to be used by speech-language pathologists, teachers and parents of language impaired students.


Once you've signed up to the Language Dispatch you'll also receive a new free Idioms ebook, On Cloud Nine.


The On Cloud Nine Program features 100 context based scenarios, and a multiple choice format to effectively teach this difficult figurative language concept.


The program is very easy to use and is yours free, once you've signed up to the Language Dispatch. The program is available as an Adobe pdf download.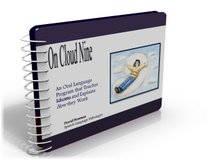 Return from Contact Me to Home Page