Peter Schossow Review 
Peter Schossow Review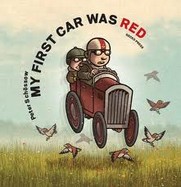 Title: My First Car Was Red
Author: Peter Schossow
Year: 2011
Published by Gecko Press
My First Car was Red is a wonderfully understated and humorous story  of the special relationship between brothers, the simple joy of craftsmanship and adventure on the road less travelled - literally.
This book is a real treat to read and makes for an inspired choice as an oral language teaching text. The story begins with the young narrator of the story receiving an old fashioned metal pedal car from his grandpa. There is a problem in that the car is a bit banged up and needs lots of attention. The early scenes of the boy pulling the old toy car apart and repairing it are a delight. The boy hammered, patched, drilled holes, greased, oiled, etc. The language is filled with action and the economical use of punchy verbs.
The boy, of course, wants to take the car for a spin. He has planned the perfect route after all. There is only one problem. The boy's little baby brother Cornelius wants to come too. Cornelius is only at a single word level but is insistent that he is to accompany his big brother on the car's maiden journey. His insistent use of 'Me!' to every futile objection voiced by his elder brother is very funny and a perfect illustration of the book's subtle humour.
Peter Schossow Review cont..
On the car's maiden voyage the brothers encounter a swarm of angry wasps, a group of girls, a steep cliff, a tunnel filled with bats, a herd of bio - swine (pigs) and a dark forest. The journey ends with the car overturned in a creek and the boy's arm a bit damaged. Little Cornelius kisses his brother's arm better and the boys wheel the car home.
My First Car was Red is a warm-hearted reminiscence of the joy of childhood and the delight of going on dicey adventures. It took me back to my own experiences of childhood, hurtling down the hill in shoddily constructed billy carts with wobbly wheels and the thrill of speed and peril in equal measure. 
My First Car was Red is highly recommended for ages 6-8 years. 
Updated 04/13 
Return from Peter Schossow Review to 1st Grade Books