Pamela Allen review. Reviews and Summaries of Pamela Allen books.





1st Grade Level (Years 1 & 2) Authors and Text






Pamela Allen Review and Summary




The review on this page is based on own experience in using the reviewed text as shared book reading material.


The books I have selected for review have proven an excellent source of language stimulation.



---





Who really did sink the Boat?
Pamela Allen review cont...




Even though we know at the outset that the boat eventually sinks - we can guess, due to overloading - we don't yet know which of the miscreants is to blame. That information is not revealed till the very end of the story.


In between we have a very funny tale of a donkey, a pig, a sheep, a cow and a mouse attempting to all squeeze onto a little boat that clearly wasn't designed to carry domestic animals, or any animals for that matter.


The story has many absurd elements to it as the large clumsy animals squeeze onto the tiny craft and do their level best to not tip the boat's occupants into the water.


Even though this story is pitched at very young readers, adults will also find the story hilarious and discover that the events depicted are actually loaded with tension.


As readers we wait and watch in fascinated horror for the inevitable outcome.


It doesn't end well...



---
Pamela Allen Review cont...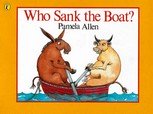 Like many Pamela Allen books
'Who sank the boat?'
is a simple tale, well told. Pamela Allen's beautifully cross hatched illustrations complement the text very well and add personality to the story.
'Who sank the boat?'
is a bright, engaging and fun story that never fails to engage early readers, and often leaves them giggling. It's ideal to use as an early reading text because the story is language rich and, importantly, key sentences and phrases are
repeated
several times.
The technique of repeating key sentences allows students with decoding difficulties, and poor
phonemic awareness,
to predict and remember much of the text.
Personally, I've found that with increased predictability in text,
language impaired students
are better able to direct attention to the meaning of the story. This also promotes recognition of some of the
inferred language
an author may embed in the text.
Pamela Allen books allow early readers to devote mental resources to understanding the story, not continually direct all their attention to decoding.
What this allows the child to do is focus on the story itself and the language that underpins it, not just attempt to
get the words right
.
Pamela Allen's books get the balance right: high predictability within fun and engaging stories.
---