Gregory Rogers Review: The Hero of Little Street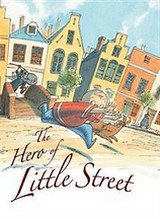 Gregory Rogers Review: An artful boy kicks a soccer ball into a fountain in London's Trafalgar Square. And so begins a sequence of events that eventually transports the boy to 17th century Holland.


A group of older and bigger lads, who take great displeasure at their ball being kicked into a fountain by the hero of the title, pursue the boy. The young boy hides within the massive hallways of the National Gallery and there meets a little dog who magically escapes from the confines of a famous painting, van Eyck's The Arnolfini Marriage.


The boy and the dog subsequently leap into the environs of another great painting, Vermeer's 'A Lady Seated at the Virginals'. This is as a result of a piece of sheet music which has drifted from the painting and dropped onto the National Gallery floor. The boy returns the paper to the young girl and can only do this of, course, by entering the confines of the painting.


The boy and his doggie companion then explore the world of the Vermeer painting and journey through the streets of 17th century Holland. From there the boy rescues a small army of pooches from a sausage maker, before returning to the real world of London's National Gallery.


The Hero of Little Street is a remarkably easy book to follow given that there is no text at all. The illustrations, and the actions depicted, drive the narrative.


Gregory Rogers book is a highly entertaining romp that young children will engage with, taking great pleasure at the mischievous antics of the boy. Adults also will love the book because of the many references to great works of art and a beautifully detailed vision of the narrow streets of a 17th century Dutch city.




Gregory Rogers Review cont...



Wordless picture books make tremendous resources for text-based language intervention. Great books such as Mercer Mayer's A Boy a Dog and a Frog series and Shaun Tan's luminous masterpiece, The Arrival , combine brilliant art with memorable stories and characters without relying on print.


The Hero of Little Street is another great wordless picture book, that though it has has all the devices of story grammar chooses to tell its story entirely with beautifully detailed watercolour paintings.


Recommended for students aged 5 to 8 years of age.