Learning and Working Memory



Learning and Working Memory: 'He seems to be constantly day-dreaming. And when he's not day-dreaming, he's being distracted by something. He never listens!'


This is a common complaint from school teachers as they attempt to explain how a normally bright child in their classroom behaves during a typical school day. The child's poor attention may be caused by working memory problems.


Children with poor learning and working memory skills struggle to cope with learning new information, because their memory becomes quickly overloaded by its limited storage capacity and the demands of learning a complex task.


Working memory problems may surface if a child is required to quickly write down a set of verbal instructions. Often the sheer volume of information may quickly tax memory storage limits in a child with working memory difficulty. Also, transcribing verbal commands requires that the child hold information in his/her memory just long enough to write the information down accurately.


This may be best illustrated by a real life example. Jack, a grade 5, 10 year old boy with working memory problems listens carefully as his teacher instructs the class about an assignment she wishes the students to complete. The subject is Emperor Penguins and their social behaviour.


The teacher, in a slow, modulated voice with the occasional pause says: 'To survive in the harsh conditions of the Antarctic, Emperor Penguins rely on other penguins to stay alive. I want you to list four social behaviours that the Emperor Penguin must display to survive the Antarctic winter.' The teacher is in a hurry to move to the next task so she doesn't repeat the instructions. She expects her students to keep up.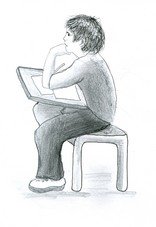 Jack's writing skills are poor and his understanding of complex sentences is limited. But his biggest problem is his impaired working memory capacity.


Jack fails to write quickly enough, which results in place keeping difficulties. He gets part way through transcribing the teacher's first sentence before the demands of what seems a relatively simple task becomes too much and he gives up, tears welling in his eyes. There are several important factors which have contributed to Jack's failure.


Jack has been expected to juggle too many tasks at once. Working memory failure is often the result of trying to manipulate too much complex information too quickly.


The breakdown here has occurred because Jack has attempted to rapidly write down the teacher's instructions. Jack also has poor understanding of complex sentences, which has overwhelmed his processing capacity, which wasn't strong to begin with.




Learning and Working Memory cont...



An important factor in Jack's failure was that the teacher used quite complex language. Both sentences were long and both featured complex sentences with subordinate and relative clauses. Added to this, Jack's written language and hand-writing skills are poor so he can't write quickly and accurately at the best of times.


To help Jack access the curriculum, the teacher needs to give considerable thought to reducing Jack's working memory load...

References:

Boudreau, D. & Costanza-Smith, A.(2011)Assessment and Treatment of Working Memory Deficits in School-Age Children: The Role of the Speech-Language Pathologist. Language, Speech and Hearing Services in Schools, Vol 42, 152-166.

Gathercole, S.E. & Alloway, T.P. (2008) Working Memory and Learning: A Practical Guide for Teachers Sage Publications, Ltd


Content Last Modified 8/11




Return from Learning and Working Memory to Working Memory Guide