Chris Van Allsburg Review. The Mysteries of Harris Burdick.
Chris Van Allsburg review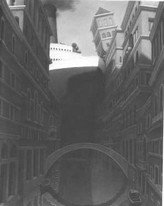 Title: Missing in Venice
Caption: 'Even with her mighty engines in reverse, the ocean liner was pulled further and further into the canal.'
---



Chris Van Allsburg has created quite an oddity with this book. The book features no plot, has no real characters or other story grammar elements, yet is one of the most fascinating and interesting children's books available.


The Mysteries of Harris Burdick is in fact a series of fourteen highly evocative illustrations. All of the illustrations contain the seed of an exciting story.


Each illustration comes complete with a title and caption. The captions are designed to provoke an imaginative response from the reader, and get them thinking about possible directions the stories could go in.


I use the illustrations to prompt children to come up with ideas for their own stories. The illustrations and captions are designed for this purpose, and do it very well.


Possible responses to the pictures are virtually limitless and really do provide inspiration and much fun for students who struggle to create original ideas of their own.


The author writes an introductory letter about the origins of the Harris Burdick pictures. According to Van Allsburg the fourteen drawings were created by a man named Harris Burdick, who left the drawings and captions in the care of a children's books publisher, Peter Wenders.


Harris Burdick vanished and never returned to collect the pictures. Peter Wenders eventually showed the pictures to Van Allsburg, who later collated the pictures into a book, which he eventually sold.


It's a fascinating story but, unfortunately, is completely fictional.


The pictures in Harris Burdick are the chief attraction here. They are unique and beautifully drawn. Van Allsburg is one of the foremost illustrators of children's books, and has been for a generation.


This book is highly recommended for any teacher, parent or speech pathologist who wants to create a desire in their children to write stories.


And to not only write stories, but to encourage children to create a sense of wonder and magic in their stories, which is what great fiction can do.


I recommend this book for grade 3(year 4) students and up.