Brian Selznick Review. A Review and Summary of Brian Selznick Picture Books.





6th Grade Level (Years 6 & 7) Authors and Text






Brian Selznick Review and Summary




The Brian Selznick review on this page is based on own experience in using the reviewed text as shared book reading material.


The books I have selected for review have all proven an excellent source of language stimulation.


Plus, each review comes with a guide on the language I target in shared strategic reading. For this particular Brian Selznick review I will provide a guide on the first chapter. Other chapters may be added over time.


The guide is certainly not exhaustive, and is designed to point you in the right direction only.



---
The Invention of Hugo Cabret (Brian Selznick review)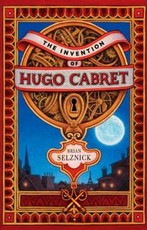 The thing that first strikes you about this book is its size. I mean, it has the weight and characteristics of a brick, such are its dimensions.


Its size alone separates it from other children's books, but that is the least of its attributes. Brian Selznick has created something new here. This does not happen much. The reality is, that in the history of children's literature, few books are remembered as true classics.


Alice in Wonderland, Charlotte's Web, The Lion, the Witch and the Wardrobe, Where the Wild Things Are, and Peter Pan, are a few of the better known children's books that have attained classic status.


The Invention of Hugo Cabret could one day be placed in that lofty company.


This all started for me some months ago when I discovered The Invention of Hugo Cabret at a great little bookshop: Lorne Books. I read the book that same evening, which is a quite a feat - it's 526 pages.


But that's the thing. Despite its great length and size, the Invention of Hugo Cabret can be read in an evening.


After reading the book, my copy of Hugo Cabret then went on a long and unusual journey.


I leant it to a teacher's aide to help her engage a 10 year old girl who hated to read. I left instructions that I needed the book back in a week. The book was...ahem...eventually returned to my grateful hands 4 weeks later!


In that space of time it passed through and among several classrooms, three adults, and was read and loved by many. Included amongst its new adherents was a well read 90 year old gentleman who once worked in the silent film industry, way back in the 1930's. He was heard to declare that Hugo Cabret was the best book he had ever read.


And yes, the 10 year old girl who hated to read, read it and loved it too.



---


The great achievement of 'Hugo Cabret' is that it is a clever synthesis of cinematic artistry, graphic novel technique and narrative. The thing that astonishes you when you begin to read is that the pictures actually propel the narrative forward, like a silent movie.


That is, the illustrations are not included to simply support the text, as happens in most picture books, but actively advance the narrative in lengthy sequences.


The illustrations themselves are precise and detailed charcoal drawings that are framed on black backdrops.


Though the text is not difficult to decode and read, (for most children between 9-12) the language underpinning the text is vibrant and deceptively simple.


The story is about a 12 year old orphan, Hugo Cabret, who secretly lives within the walls of a 1930's Paris train station. Hugo is a gifted watchmaker and repairer who obsessively rebuilds an automaton an intricate and delicate machine that had been discovered on a scrap heap by his late father.


Brian Selznick blends a fictional story with real life events and people. The Invention of Hugo Cabret works beautifully as a language learning text.
The Invention of Hugo Cabret is the first of several Brian Selznick reviews. More will follow sometime soon.



---